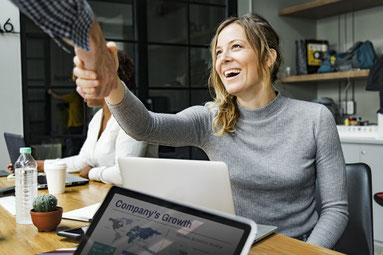 The business world is like the world we live in as a whole—every minute brings about changes.  For a business to continue being competitive, they must be able to identify these areas or sectors that are changing, and be able to move their business forward by following the right trends and skill sets. Some of the sectors include -
• Technology
• Marketing
• Communication methods
Technology
One of the most spectacular changes to the digital world of business is the rate of technological change. Any company that wants to remain in the competitive zone must be able to upgrade their technology on a regular basis – both hardware and software.

These changes include changes in the technology used in the products, as well as services offered by the business and changes in production and distribution technology. The advent of artificial intelligence signals the next quantum leap in technological advances which are already impacting the business world.
Digital Marketing
Digital marketing is one of the main forces driving the business world forward. It has a great influence on people's work, purchases, life habits, and interactions. Any company that wants to stay afloat and remain competitive must be able to grasp and utilise the digital world in their business.
Websites and social media platforms need to attract and engage an audience, with the intent of converting them to loyal customers. Digital marketing can only reach its full potential through keeping up with advances in technology.
Communication Methods 
Significant changes in technology and digital marketing have changed the way businesses communicate, both their customers/clients and with staff and colleagues within the business.

Emails and text messages have largely replaced letters and phone calls. Live video chats allow business meetings to take place when the participants are vastly separated geographically. 
….. What Doesn't Change?
Despite all these changes, there is also one area of the business world that doesn't ever really change - the importance of the human connection. 
Personal connection. 
Businesses are selling products or services to people. They must be able to connect to people in order to bring in and retain the customers after the first transaction. If you are able to connect with your clients, you'll get loyal customers that stay. 
The power of connection is vital in the business world — it is one of the foundations of creating a lasting relationship, both personally and professionally. You should be able to connect in an authentic way, and communicate your message in such a way that it will connect with your clients and resonate at their core. Your message must be true, compelling, useful, authentic, and interesting enough to make sure the listener or viewer stays with you. A customer service based on an ethos of personal connection is essential in moving your company forward and ultimately maximizing profits.
---
D'licious Gourmet Hampers is a family owned and run business. Ray and Irene and their family have been living in the Noosa Shire of the beautiful Sunshine Coast, Qld for over 20 years and are passionate about the areas natural beauty, lifestyle, climate and the quality of the local produce. Situated only an hour north of Brisbane, D'licious Gourmet Hampers services South East Queensland with quality regional gourmet hampers. Overnight delivery is possible to most SE Qld areas. Please check our Delivery information for your particular area.
We deliver Australia wide!
The Sunshine Coast, a short 1hr drive north of Brisbane, offers some of the most beautiful and pristine beaches in the world and a picturesque hinterland, with rolling pastureland, mountains, lakes and rainforests. It's temperate climate creates the perfect growing conditions for the produce from which local gourmet chefs create their increasingly famous artisan sauces, jams, beverages and more.
We're spoiled for choice with the amazing gourmet products we can offer in our hampers - choose one of ours or create something entirely original! 
---
Enjoy the finest quality, locally produced, taste of the region delicacies direct from the Sunshine Coast Queensland. Proudly regional gourmet hamper specialist for Brisbane, Sunshine Coast, Gold Coast and Queensland with Australia wide delivery.
Customised or Corporate Gift Hampers or Gift Basket orders welcome.  
---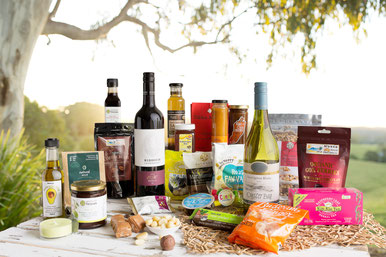 D'licious Gourmet Hampers provide local, sustainable, and environmentally friendly gift hampers which provide a farm gate to table experience for the recipient.
Local produce gift hampers are a great way to support a myriad of artisans, with most typically containing products from many such cottage industries within one purchase.
We customise corporate gift hampers to provide you with unique, quality gifts which promote your business as professional and caring, while reinforcing your own brand. The service we provide allows you to confidently place your corporate gifting entirely under our care.