Picante in Spanish means 'spicy', and this dish is that. But it's a pleasant sweet spiciness that your entire family will love.
Reproduced with permission - This month's recipe is courtesy of Kim McCosker from 4 Ingredients, One Pot One Bowl cookbook.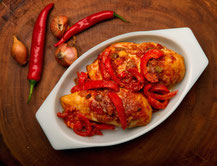 Due to the outstanding success of the 4 Ingredients cookbook range, Sunshine Coast local Kim is now a household name in Australia.
She has recently returned from China where she won an amazing award for Best Selling Author at the Gourmand World Cookbook Awards - known as the 'Oscars of the Cookbook World'!
Serves 6
6 chicken breast fillets
2 cups (250g) salsa
1/3 cup (70g) brown sugar
2 tablespoons honey-Dijon mustard
Preheat the oven to 175˚C. Combine all the ingredients and place in a 30 x 20cm baking dish. Bake until the chicken is thoroughly cooked, 40 to 45 mins.
Optional:
Add strips of red capsicum (peppers) before baking for add colour and flavour.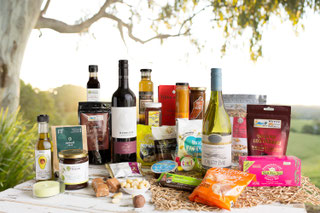 D'licious Gourmet Hampers provide local, sustainable, and environmentally friendly gift hampers which provide a farm gate to table experience for the recipient.
Local produce gift hampers are a great way to support a myriad of artisans, with most typically containing products from many such cottage industries within one purchase.
We customise corporate gift hampers to provide you with unique, quality gifts which promote your business as professional and caring, while reinforcing your own brand. The service we provide allows you to confidently place your corporate gifting entirely under our care.