Noosa is internationally renowned for its famous beaches and national park headland. However just to the south lies a lesser known strip of pristine coastline that takes in several other beaches within the Noosa Shire. 
Even in peak time, it is possible to find an isolated stretch of beach or sand dunes to claim as your own. Noosa Council's stringent building laws have ensured that any beach front properties along this section of coastline are built behind a substantial 'nature strip', separating any buildings from the beach itself. As such, it is often possible to forget suburbia is still close by.
All the beaches are popular with surfers, fishermen, kite surfers and locals or visitors wanting to enjoy seaside nature at its unspoilt best.  Aside from the road, walking and cycling tracks, which pass through long sections of native bush, connect the beaches. 
History
Formally known as Golden Beach, Sunshine Beach was virtually inaccessible to vehicles and rarely visited before the 1920s. In 1928, the developer Thomas Marcus Burke was granted land there by the government in exchange for building roads and bridges from Tewantin. After WW11 it was marketed by his son, Marcus, as Sunshine Beach. 
During the 1950s, the Chairman of the Maroochy Shire Council, David Alan Low, promoted the construction of a road through the Maroochy Shire along the coast to connect Maroochydore to Noosa. The first section of this coastal highway was built by T.M. Burke and opened between Sunshine Beach and Peregian Beach on April 2, 1960. It was named David Low Way in his honour. 
Sunshine Beach 
With a laid back, almost tropical feel, Sunshine Beach is renowned for its beautiful beach and leafy dining and café hub, complete with stylish boutiques. From award winning restaurants to a bakery, deli and even a small general store, all tastes and budgets are catered for. The beach front surf club offers some of the best coastal views on the Sunshine Coast. The beach is patrolled year-round and is a popular surfing spot. North Sunshine runs all the way to the southern entry of the Noosa Heads national park headland, with walking trails up, over and through the headland to Noosa. This section of beach is dog friendly, so popular with local families.
A favourite locals' secret is the cave at the southern end of the headland, which can only be accessed at low tide from the Sunshine Beach end of the walking track. There is no marked track to get to this, but if you are lucky enough to know a local who can show you the way and are agile enough to rock scramble to get there, is worth the effort.  
Sunrise Beach
Sunrise Beach is patrolled by Sunshine Beach Surf Club during Summer weekends and school holidays. The beach itself is banked by high dunes and overlooked by beach houses nestled on the ridge above. The suburb of the same name is home to a thriving residential community.
Those of us lucky enough to call one of the remaining southern beaches in the Shire home, have the enviable position of living in an elongated suburb hemmed between the ocean to the east and the Lake Weyba section of the Noosa National Park to the west.  No matter where you live, the beach and the bush are not far away. What makes all this even more desirable is the easy access to every facility and amenity you could wish for. Schools, medical facilities, university campuses, sporting clubs, shopping and dining precincts to name a few, are all within a short drive, if not walk. 
Castaways Beach
Castaways Beach has direct beach access from the car park situated on David Low Way. Two pedestrian underpasses give locals easy access to the beach by foot or bicycle. A complete lack of visible houses on the eastern side of David Low Way allows the beach to live up to its name. 
Marcus Beach
Marcus Beach is an unpatrolled beach with a designated leash free dog beach to the north. Once again, with a white sandy surf beach that seems to go forever with only sand dunes and bush in sight, it is easy to feel like you are on some deserted stretch of a Western Australian beach. 
Peregian Beach
Peregian Beach is the most southerly beach within the Noosa Shire and is a small commercial hub with a village feel. The village itself is a treasure trove of cafes, restaurants and boutique shops and businesses wrapped around a central park. The large beach front park across the road is home to the infamous Peregian Beach markets, held every second Sunday. The surf club is presently closed to patrons but the beach is patrolled year-round by council lifeguards and every weekend from September to April by surf lifesavers from Noosa Heads SLSC. On the other side of David Low Way can be found the Peregian Beach Hotel and an IGA for all your grocery needs. And all of this is on the doorstep of that pristine stretch of beach.
If you like the idea of vast expanses of undisturbed beaches while having easy access to every facility you may need, you will love this beautiful part of the Sunshine Coast.  Put it on your bucket list now!
---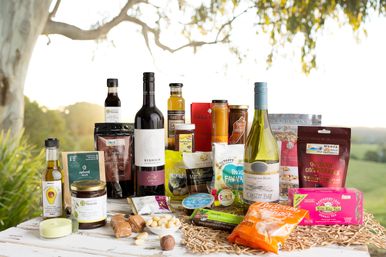 D'licious Gourmet Hampers provide local, sustainable, and environmentally friendly gift hampers which provide a farm gate to table experience for the recipient.
Local produce gift hampers are a great way to support a myriad of artisans, with most typically containing products from many such cottage industries within one purchase.
We customise corporate gift hampers to provide you with unique, quality gifts which promote your business as professional and caring, while reinforcing your own brand. The service we provide allows you to confidently place your corporate gifting entirely under our care.