Road trips have long been part of our Australian travel identity. But what if the trip isn't so much of a 'road' trip as a 'beach' trip. On the north eastern side of the Noosa River is the start of the Noosa North Shore. This pristine stretch of coastline provides approx. 55 km of sandy highway all the way to Double Island Point and Rainbow Beach. Aptly named 'The Great Beach Drive', this remote stretch of beach within the Cooloola Coast is backed by the Great Sandy National Park.
---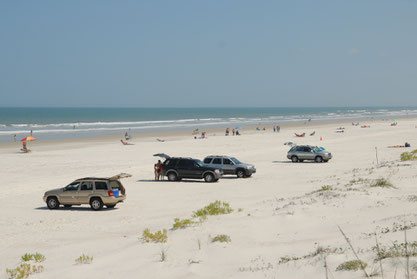 The Noosa North Shore Car Ferry operates 7 days/week from Tewantin. The short 5 min trip will deposit you in a bushland residential area, from where the suburbs of Tewantin, Noosaville and Noosa already seem far away.
Unsealed roads which are suitable for standard 2WD vehicles provide easy access to The Great Sandy Bar & Restaurant, a popular stop for a meal or a cool ale, and it's well equipped Tourist Park.
Further down the road is the Noosa North Shore Beach Campground, which offers campers without 4WDs a beachfront, bushland setting sometimes only accessible with an off-road vehicle.
---
A few hundred metres north of the campground, the 'third cutting' provides beach access for 4WD's and the start of one spectacular drive. Permits are required to drive along the beach and on some inland tracks on Noosa North Shore in the Cooloola Recreation Area, and to camp. Purchase your permit online from the National Parks.
With soft sand access and regular 'wash outs' along the beach, the drive is best undertaken by drivers with beach driving experience. Popular for obvious reasons, the beach can be at times be quite busy with cars, particularly at peak holiday times. Road rules and speed limits apply. High tide can see your car bogged or swamped, so careful note of the tides is essential.
On the trip north, stop for sand tobogganing on massive sand dunes. The soft sand hike to the top is worth it for the exhilarating trip back down.
Continuing north you will pass the infamous 'coloured sands', where reds, browns, black and yellow sands make up multi –coloured 'walls' on your left. This is also the stretch of beach where beach camping is allowed.
If you visit between the months of July to September, you might be lucky enough to spot migrating whales, who head north to Hervey Bay where they breed each year. 
A further 30 km to the north you will reach to access to Freshwater camping area, complete with toilets and showers which are maintained by the ranger each Monday. 
---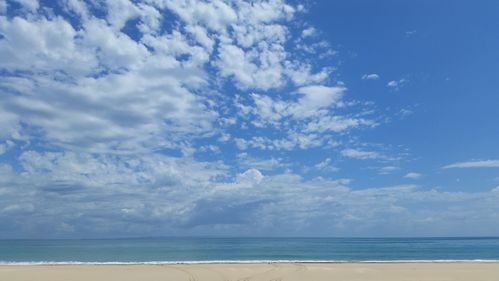 At the northern end of this stretch of coastal highway you will reach the scenic headland of Double Island Point. A 2km hike to the lighthouse at the top will reward you with spectacular views of Teewah Beach to the south and Rainbow Beach and world heritage listed Fraser Island to the north. 
Continue driving north, where a short access road will lead you to the northern base of the headland. A calm lagoon and the sheltered beach are perfect for a relaxing swim. In front of you stretches Rainbow Beach. If you thought the coloured sand cliffs you passed on the Teewah Beach section of the drive were impressive, then wait until you drive onto Rainbow Beach! 
This is possibly the most spectacular part of the beach drive. Named for its famous multi coloured sand cliffs, it doesn't disappoint. Once again, careful note of tides is essential, as there is no escaping an incoming tide.
Rainbow Beach is a small, quiet coastal town at the base of the Inskip Peninsula. With shops, cafes, a hotel, beachfront parkland and a variety of accommodation options, it is a holiday destination in itself. Horse riding on the beach is a memorable way to experience this magical part of the world. The township is accessible by road via a 73km or 50 min drive from Gympie, allowing those of us without 4WDs to still experience this natural wonderland. Several tour groups such as Epic Ocean Adventures, and Surf and Sea Safaris, provide day trips for anyone preferring to sit back and relax, while someone else worries about tides and beach accesses. 
The Great Beach Drive can continue north, with a barge from the northern tip of Inskip Point taking you to Fraser Island, the world's largest sand island and a World Heritage Marine Park.
We are unbelievably fortunate to have this amazing part of Australian coastline on our doorstep. If you haven't managed to see it yet, get planning! You won't regret it.
---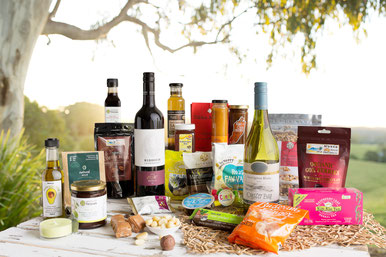 D'licious Gourmet Hampers provide local, sustainable, and environmentally friendly gift hampers which provide a farm gate to table experience for the recipient.
Local produce gift hampers are a great way to support a myriad of artisans, with most typically containing products from many such cottage industries within one purchase.
We customise corporate gift hampers to provide you with unique, quality gifts which promote your business as professional and caring, while reinforcing your own brand. The service we provide allows you to confidently place your corporate gifting entirely under our care.