Fancy an outdoor activity to boost your physical and mental well being in a spectacular location? Then look no further than a hike up one of the many mountain summits on offer in the Sunshine Coast. Ranging from challenging to a gentle 200 m walk up from the car park, there is something for everyone.
Breathtaking views await you! Here are some of the more 'family friendly' options. Make sure you take water and snacks, wear suitable footwear and clothing, always take weather conditions into account and stay on the main tracks. 
                                                    Mt Cooroora                                                                                                                             Mt Tinbeerwah
---
Mt Coolum
Undoubtedly one of the Sunshine Coast's most famous and notable landmarks, a trek to the summit of Mt Coolum will reward you with a spectacular 360 degree vista of the Sunshine Coast from Fraser Island in the north to Bribie Island in the south, as well as taking in the lush hinterland. Parts of the track are quite steep toward the top. Access via the entry near the junction of Tanah Street West and Jarnahill Drive, Mt Coolum.
Mt Coolum: 208 m
1.8 km return
800 m of elevation to summit
Allow 1 ½ - 2 hrs for return trek.
Mt Cooroora
Famous for the annual 'King of the Mountain' race, Mt Cooroora provides a challenging trek to the summit. The chains and near vertical metal stairs in parts of the upper section are there for good reason. Having reached the summit after a 290 m climb in elevation, most of us 'mere mortals' find it hard to fathom that the race winners complete the round trip in under 25 mins, starting from the pub in town! That said, the climb requires a level of fitness and dexterity, not mountain climbing experience, so give it a go if you'd like an achievable challenge. Access signed track entry in Mountain Street in Pomona.
Mt Cooroora: 446 m
3 km return
290 m of elevation to summit
Allow 2hrs for return trek
---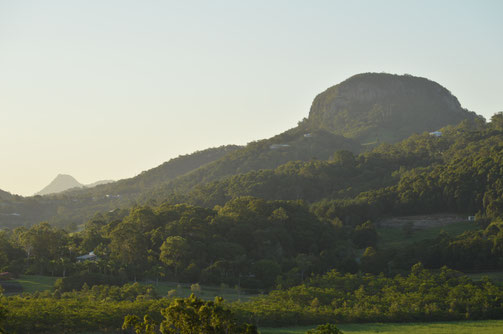 Mt Ninderry
A far less well known and consequently less frequented trek is to the summit of Mt Ninderry, located on the eastern side of Yandina. This is a far easier walk than nearby Mt Coolum. The summit is covered in dense vegetation but viewing platforms to the east and west give spectacular views. Access via a sign posted cement drive on Eucalyptus Crescent, which is a continuation of Ninderry Road. The cement drive will take you to the car park at the base of the walking track.
Mt Ninderry: 304 m high.
3.3 km return
130 m of elevation to summit
Allow 60 mins for return trek
---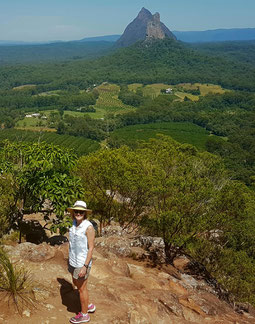 Mt Ngungun
One of the Glasshouse Mountains, Mt Ngungun is a popular trek as it is relatively easy and provides panoramic views from the summit and close-up views of neighbouring Mt Tibrogargan, Mt Coonowrin and Mt Beerwah. Access via Fullertons Road just after the Glasshouse Mountains State School.
Mt Ngungun: 225 m high
196 m of elevation to the summit
2.8 km return
Allow 90 mins for return trek
---
Wild Horse Mountain
Located on the eastern side of the MI approximately half way between the Beerburrum and Beerwah exits, Wild Horse Mountain is a distinctive landmark on the highway.  
A fairly steep 700m cement path leads to the top. The lookout is a fire watch tower and provides amazing 360° views of the Glass House Mountains to the west and Bribie Island and the coastal strip to the east. Information boards tell you what you are looking at. It is a great spot for a picnic.
Wildhorse Mountain:  123 m high
101 m of elevation to the summit
1.4 km return
 Allow 30 - 40 mins for return walk
---
Mt Tinbeerwah
Mount Tinbeerwah has the most easily accessed summit of the Sunshine Coast mountains. The road takes you most of the way to the top, with the highest car park only 1km from the summit.
A 130m sealed track provides wheelchair and pram access to the first lookout point, which offers views to the coast. The track then climbs to the fire tower lookout from which there are spectacular panoramic 360 degree views. Popular for picnics and to watch sunrise or sunset, this is one mountain summit that can be enjoyed by young and old alike.
Mt Tinbeerwah: 265 m
1 km return
Allow 20 mins for return walk
Other mountains of interest.
Mt Beerwah and Mt Tibrogargan located within the Glasshouse Mountains are classified as 'Very difficult' and not recommended unless you are an experienced trekker.
Mt Cooroy is on private property and open to the public once a year during the Cooroy Mountain Spring Festival.
Make one of these spectacular mountain summits your next 'walking' destination. Plan ahead to get the most enjoyment and satisfaction from the experience, while remaining safe. It's a wonderful way to experience the natural beauty of our Sunshine Coast where eagles soar. Enjoy!
---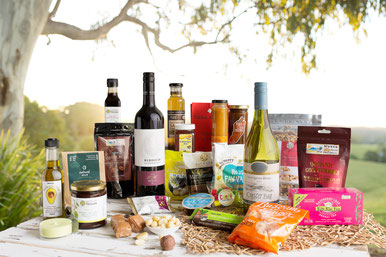 D'licious Gourmet Hampers provide local, sustainable, and environmentally friendly gift hampers which provide a farm gate to table experience for the recipient.
Local produce gift hampers are a great way to support a myriad of artisans, with most typically containing products from many such cottage industries within one purchase.
We customise corporate gift hampers to provide you with unique, quality gifts which promote your business as professional and caring, while reinforcing your own brand. The service we provide allows you to confidently place your corporate gifting entirely under our care.