A short 10 min drive west of Nambour, the delightful Sunshine Coast village of Mapleton can be found high on the Blackall Range. While not as famous or populated as it's southern hinterland neighbours - Montville and Maleny, Mapleton offers sweeping 180  ͦ rural views of the Sunshine Coast. Surrounded by lush farming land and national parks, the township retains the charm of yesteryear. The historic Mapleton Tavern, quaint cafes and shops, the post office and local school all contribute to form the small commercial hub of this closely-knit community.
---
The area has a proud rural history, with timber cutters and dairy and crop farmers making up most of the early settlers.  Today the area offers an enviable lifestyle for local residents and a range of accommodation options and places to visit for tourists. 
The Mapleton Tavern is a great place to take in the spectacular views while enjoying a tasty meal and a cool ale. Make sure you take a look at some of the historic photos on display inside. Bella Vista Pizza & Pasta or Fishtales Seafood Café are popular with locals and visitors alike. If it's a good coffee you're after then La Botiga or local bakery, Sweet and Flour, are the places to go.
Accomodation ranges from private campgrounds such as Lilyponds Holiday Park and Mapleton Cabins & Caravan Park to 4 star lodges and b-n-bs such as Eden Lodge. For the more adventurous camping is also available with permits in the nearby Mapleton National Park.
---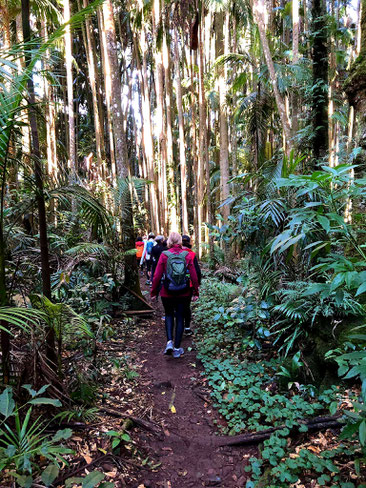 Possibly the area's crowning glory is the spectacular Mapleton Falls. Located within the Mapleton Falls National Park, only a short drive from the township, the falls plunge 120m into the lush valley below. To get there, take the Obi Obi Road from town and travel 3km to the signposted turnoff to Mapleton Falls National Park.
The best time to see the falls is during the Summer wet season, as there can be limited water flow in Winter.  Look out for the Australian peregrine falcon, which often roosts near the waterfall and can be sighted soaring overhead. Lush rainforest and open eucalypt forest provide home for an abundance of wildlife and a thriving eco-system. 
Visitors to the park can opt for a short 50m walk to the lookout or the 1.3km Woompoo Circuit, named after the wompoo fruit-dove, whose call can be heard from its feeding sites among the tree-tops. Walking tracks through Mapleton Falls National Park form part of the Sunshine Coast Hinterland Great Walk, a 58km walk through Kondalilla, Mapleton Falls and Mapleton National Parks with overnight campsites.
Neigbouring Mapleton National Park is lesser known, but again offers spectacular views and diverse forest types. Entry is via unsealed Delicia Road or by following the signs along the walking track within Mapleton Falls National Park.
The park offers a range of walking tracks from short and easy to challenging. This part of the Sunshine Coast Hinterland Great Walk are some of the most challenging sections of the trail. Walkers, cyclists and horse riders can explore the park on shared trails.
Check with National Parks for more information, as some restrictions apply.  
The beauty and tranquillity of Mapleton makes it a must-do area to visit (or re-visit) in the beautiful Sunshine Coast hinterland. Whether you are looking for peaceful relaxation or a physical challenge, time spent here will revive your spirit! Put it on your bucket list now.
---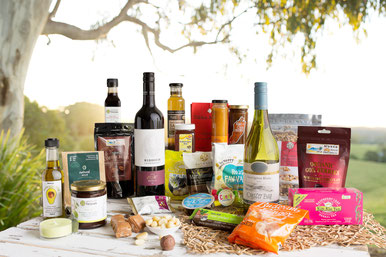 D'licious Gourmet Hampers provide local, sustainable, and environmentally friendly gift hampers which provide a farm gate to table experience for the recipient.
Local produce gift hampers are a great way to support a myriad of artisans, with most typically containing products from many such cottage industries within one purchase.
We customise corporate gift hampers to provide you with unique, quality gifts which promote your business as professional and caring, while reinforcing your own brand. The service we provide allows you to confidently place your corporate gifting entirely under our care.