If you're visiting the Sunshine Coast Hinterland, Montville is the perfect place to stop. Situated on the scenic tourist drive in between Maleny and Mapleton, this quaint country town is nestled in the rural beauty of the Blackall Ranges. It's worth planning your stop in Montville to coincide with lunch or morning or afternoon tea time. It's just that kind of town. 
As you cruise up the ranges into the Hinterland your ears might pop with the altitude! Even though it's only a 30-minute drive from Maroochydore, you'll feel as if you're a million miles away from the hustle and bustle of the seaside resort towns. Although Montville rightly attracts its fair share of visitors too.
When the beach gets too hot and busy, heading for the hills where it's cooler and quieter, is literally a breath of fresh air. 
Montville is the kind of place you come to relax, poke around the gift shops and enjoy the epic views, across the hinterland and back to the coast, from the comfort of a cosy café. It's the kind of romantic spot that's perfect for a wedding proposal or even a marriage. Look out for the cute chapel at the high end of town that's been built for that very purpose. 
The main street is lined with cafés, restaurants, art galleries and shops. If you like shopping you can happily spend an hour or two exploring. Here's what you can look forward to in Montville.
Linger over a cream tea, coffee or cake
Pick a café on the Eastern side of the main street with views over the hinterland. Poet's Café is the classic choice, with indoor and outdoor seating to suit the weather. There's a good selection of teas and plenty of irresistible options for cake lovers in the display counter.
Wine tasting and Fine Dining
A short drive from town is the award-winning Flame Hill vineyard and winery. Flame Hill offers a true paddock-to-plate venue.
Taste their estate-grown wines or enjoy them while dining in their scenic restaurant overlooking lush pastureland and the distant ocean. Each February their infamous Stomp grape harvest festival attacks visitors from near and far. 
The Long Apron is the in-house restaurant at Spicers Clovelly Estate.
Dining at this award winning hatted restaurant is a true gastronomic journey. Make sure you try the delicious recipe for a French banana ginger bread they have kindly shared with us. 
Run away with the gypsies
Gypsy's Table is an eclectic local restaurant with a fireplace inside to keep you warm and chickens roaming free in the gardens out back. You can buy veggies and eggs here or stop for lunch made from fresh, local ingredients. The meals are hearty home fare cooked with love. 
Poke around the shops
Some of the shops sell the traditional souvenirs like tea towels, cuddly toys and other novelty items. But there are plenty of stores selling unique locally made items such as soap, clothes and chocolates.
If you're looking for something truly unique head to the Clock Shop where you can pick up a genuine Bavarian Cuckoo Clock, Castle Glen Wines where you can buy handmade liquors or Illume Creations for handblown glass art, beads and jewellery.
If you've got kids or you're young at heart, Amazen Puzzles & Games has an excellent selection of toys and games the whole family will enjoy. 
Soak up the history and architecture
Established in 1887, there are some genuinely historic buildings in town. Don't miss the old school buildings, St. Mary's Anglican Church, Razorback House, the Memorial Gates or the majestic memorial fig trees which were planted to commemorate the fallen in World War 1. 
Then head to Misty's for a fine meal or craft beer in a historic building which was formerly the Fancy Goods & Lolly Shop. It's still full of quirky nooks and crannies. 
Get out in nature
For longer hikes or a digital detox in the bush, nature calls just a short drive away at Kondalilla National Park and Waterfalls, Mapleton Waterfalls, Lake Baroon or Mary Cairncross Scenic Reserve. For short walks or day long hikes, swimming under waterfalls, picnics by a running stream or scenic lake or just lying back and taking in the fresh air and natural beauty, this area offers it all.
Accomodation
A perfect year-round getaway, Montville has a plethora of accommodation options. Boutique B&B's and eco-resorts, cabins, cosy cottages, country motels and farm stays cater for all tastes and budgets. 
Montville is a little slice of hinterland paradise with something for everyone. Put it on your 'to do' list this Winter! 
---
 Enjoy the finest quality, locally produced, taste of the region delicacies direct from the Sunshine Coast Queensland. Proudly regional gourmet hamper specialist for Brisbane, Sunshine Coast, Gold Coast and Queensland with Australia wide delivery.
Customised or Corporate Gift Hampers or Gift Basket orders welcome.  
---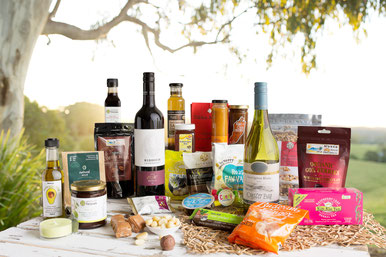 D'licious Gourmet Hampers provide local, sustainable, and environmentally friendly gift hampers which provide a farm gate to table experience for the recipient.
Local produce gift hampers are a great way to support a myriad of artisans, with most typically containing products from many such cottage industries within one purchase.
We customise corporate gift hampers to provide you with unique, quality gifts which promote your business as professional and caring, while reinforcing your own brand. The service we provide allows you to confidently place your corporate gifting entirely under our care.