Choosing a gift for a colleague or client can be a challenging and tricky task.
It is not always easy to come up with an idea for a gift or present while still following company protocol or etiquette.
Corporate gifting is intended to strengthen relationships so it's important we get it right.
In order to avoid having your good intentions 'backfiring', here are a few corporate gifting tips and guidelines to keep you on the safe track.
Know the company protocols or corporate guidelines
Some companies have very strict policies concerning gifting - what kind of gifts their employees can receive, if any. To avoid returned gifts from a recipient within a large company, check with their Human Resources Department.
Do your research ahead of time, and know if they have gifting restrictions before making a purchase order.
Know your recipient
Find out more about what your colleague or client loves or enjoys - their hobbies, sports, pastimes, preferred food and beverages. If this seems difficult, ask their assistant or associate. Do they love music? Golfing? Cooking? Knowing this will help you choose a gift which shows an interest in them personally, making your recipient feel more valued and your gift (and consequently you) more memorable.
If this isn't possible, choose a gift which is useful and universally acceptable, such as a quality gourmet hamper.
Consider the cost
While gift giving is all about saying thank you rather than trying to impress the recipient, choosing a gift with an inappropriate level of cost can cause embarrassment for both parties. An overly lavish present may be seen as trying to 'buy' loyalty or make the recipient feel somehow indebted. A 'paltry' gift can make the recipient feel undervalued and make you look miserly.
Obviously, the situation and business relationship will determine what is an appropriate amount to spend at any given time, so there will be vast differences as to what constitutes 'appropriate'.
Branding
Corporate branding on gifts can be a great way to help your client remember your company, but you might want to rethink printing your company logo boldly on your gift. Make sure your company logo is inconspicuous so it doesn't look like an advertisement. Whatever you decide to give - pens, clothing, letter openers — make sure the logo is understated enough not to be a distraction to the gift itself. 
Be appropriate, and think twice about humorous gifts
Sometimes, an innocently given gift can be taken the wrong way. What might seem funny to you could be insulting to another. Know your recipient well enough to know their sense of humor and also avoid any gift that might seem even slightly intimate.
Be generous
Especially in the case of food. When sending a food basket or gourmet hamper to your recipient's office, make sure there will enough for everyone, because your client might well feel obligated to share with their colleagues, while still hoping to have a little to take home. 
Presentation
The way you present your gift is an important part of the gifting process. Make sure your gift is wrapped professionally and presented in a festive way. Quality presentation immediately impresses. Utilising the services of a professional corporate gifting company, such as a gift hamper business, should ensure your gift is tastefully and professionally presented.
Personalise your thank you card
A personalised message on your gift card makes the gift more genuine and personal. A handwritten thank-you note is ideal, as it lets your recipient know you value and appreciate them. 
---
D'licious Gourmet Hampers is a family owned and run business. Ray and Irene and their family have been living in the Noosa Shire of the beautiful Sunshine Coast, Qld for over 20 years and are passionate about the areas natural beauty, lifestyle, climate and the quality of the local produce. Situated only an hour north of Brisbane, D'licious Gourmet Hampers services South East Queensland with quality regional gourmet hampers. Overnight delivery is possible to most SE Qld areas. Please check our Delivery information for your particular area.
We deliver Australia wide!
The Sunshine Coast, a short 1hr drive north of Brisbane, offers some of the most beautiful and pristine beaches in the world and a picturesque hinterland, with rolling pastureland, mountains, lakes and rainforests. It's temperate climate creates the perfect growing conditions for the produce from which local gourmet chefs create their increasingly famous artisan sauces, jams, beverages and more.
We're spoiled for choice with the amazing gourmet products we can offer in our hampers - choose one of ours or create something entirely original! 
---
Enjoy the finest quality, locally produced, taste of the region delicacies direct from the Sunshine Coast Queensland. Proudly regional gourmet hamper specialist for Brisbane, Sunshine Coast, Gold Coast and Queensland with Australia wide delivery.
Customised or Corporate Gift Hampers or Gift Basket orders welcome.  
---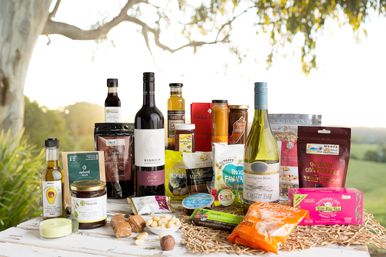 D'licious Gourmet Hampers provide local, sustainable, and environmentally friendly gift hampers which provide a farm gate to table experience for the recipient.
Local produce gift hampers are a great way to support a myriad of artisans, with most typically containing products from many such cottage industries within one purchase.
We customise corporate gift hampers to provide you with unique, quality gifts which promote your business as professional and caring, while reinforcing your own brand. The service we provide allows you to confidently place your corporate gifting entirely under our care.