Staying and keeping it local creates a ripple effect in the community from the income you generate, local taxes you pay, and buying from local suppliers. 
Staff whose income is spent locally add to that effect also.
By now you can see the big picture of how supporting the community through fostering lasting relationships with native enterprises keeps the economy rolling. Thus, keeps the community thriving. 
Support Local Products and Services
Cultivating long lasting business relations with local producers and manufacturers as well as service providers by patronizing their products and services creates a local supply base. A native supply base benefits your company in two ways; you know the product or service you are getting, and you have more control over the pacing of supply since you know the people and the enterprises. 
Know local products, produce and services that are available for your own enterprise. Learn how they are made and the materials/ingredients used for the products.
Get a little personal by getting to know the people behind the enterprise. Gather information about them and maintain a friendly but professional relationship with them. Being amicable and aware of the people behind your suppliers reinforces your reputation as being aware and concerned about your community.
Local products are usually distinct and have an artisanal edge over mass-produced products. In other words, they are special and including them into your products or services gives you the edge too.
Creating More Jobs
When you support, keep close and long-lasting relationships with local enterprises, you are part of the chain that generates more jobs in the community. Creating more jobs for the locals mean higher circulation of disposable income. Buying your supplies from native producers also keeps the money within the community.
This brings about a chain of effect wherein companies and individuals pay their taxes, and the dollars collected are used for the development of the community including funding for public schools, parks, and public recreation areas as well as transportation and other public community-owned utilities.
Fostering local enterprises and creating lasting relationships work to your advantage and help your community to thrive. These result in better relations with known and highly regarded suppliers - giving you a distinct edge with your own product or service. Also creates more jobs and opportunities for you and the community as a whole.
---
D'licious Gourmet Hampers is a family owned and run business. Started on the beautiful Sunshine Coast, Qld the D'licious Gourmet Hamper owners are passionate about the areas natural beauty, lifestyle, climate and the quality of the local produce. Based in Brisbane, D'licious Gourmet Hampers services South East Queensland with quality regional gourmet hampers. Overnight delivery is possible to most SE Qld areas. Please check our Delivery information for your particular area.
We deliver Australia wide!
The Sunshine Coast, a short 1hr drive north of Brisbane, offers some of the most beautiful and pristine beaches in the world and a picturesque hinterland, with rolling pastureland, mountains, lakes and rainforests. It's temperate climate creates the perfect growing conditions for the produce from which local gourmet chefs create their increasingly famous artisan sauces, jams, beverages and more.
We're spoiled for choice with the amazing gourmet products we can offer in our hampers - choose one of ours or create something entirely original! 
---
Enjoy the finest quality, locally produced, taste of the region delicacies direct from the Sunshine Coast Queensland. Proudly regional gourmet hamper specialist for Brisbane, Sunshine Coast, Gold Coast and Queensland with Australia wide delivery.
Customised or Corporate Gift Hampers or Gift Basket orders welcome.  
---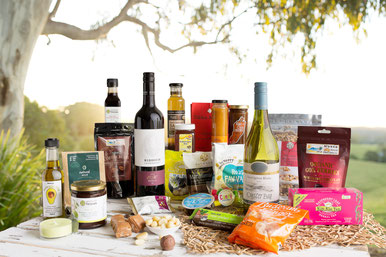 D'licious Gourmet Hampers provide local, sustainable, and environmentally friendly gift hampers which provide a farm gate to table experience for the recipient.
Local produce gift hampers are a great way to support a myriad of artisans, with most typically containing products from many such cottage industries within one purchase.
We customise corporate gift hampers to provide you with unique, quality gifts which promote your business as professional and caring, while reinforcing your own brand. The service we provide allows you to confidently place your corporate gifting entirely under our care.