Recently Peregian made international news for all the wrong reasons. The coastal town which sits surrounded by Noosa National Park, was under siege from a bushfire, the likes of which the area has never experienced before. Fanned by strong, blustery winds, the fire turned into a firestorm which threatened hundreds of homes on both sides of David Low Way. Fanned by swirling winds, showers of red-hot embers burst into spotfires and rapidly increased the spread and intensity of the fire.
Without the heroic and 'herculean' efforts of the firefighters and other emergency services, literally hundreds of homes would have burnt. It was described as nothing short of a miracle that only one home was lost to the fire and no one was hurt. The already tight-knit community banded together to help one another and are in awe and filled with deep gratitude to those who saved the community from becoming a charred ruin. And as happens after natural disasters, life has returned to normal for most residents, who await rain to regenerate the bush.
---
So, having nearly lost our community we love it all the more! Read on for why. 
We may be unashamedly biased as this is our local stamping ground, but Peregian Beach Village is a 'must visit'. Tucked between Coolum and Noosa (and no where near as busy as either), Peregian Beach typifies the perfect Australian Beach: endless white sand, sand dunes and surf.
Even in Summer, you only need to wander a short distance from the patrolled beach area to find a seemingly empty stretch of beach or sand dunes. Building restrictions mean you can barely see a building from the beach and it's easy to forget suburbia is really only across the road.
---
The village itself is a treasure trove of cafes, restaurants and boutique shops and businesses wrapped around a central park. The large beach front park across the road is home to the infamous Peregian Beach markets, held on the first and third Sundays of each month. Artisan producers sell everything from handmade jewellery, clothing, homewares (including some second hand retro stalls), as well as organic fruit and vegetables and plant stalls to name a few. 
From fine dining to beachfront BBQ's (complete with covered playground and picnic tables), Peregian offers something for everyone and every budget. There are too many great coffees and lunches to be had to list them all, but our favourites include Baked Poetry Cafe, Le Bon Delice French Patisserie and Raw Energy. It's hard to go past Pitchfork and Periwinkle restaurants for consistently great dining. Newcomer Captain's Daughter offers tasty tapas and meals in a relaxed setting. It is busy for good reason.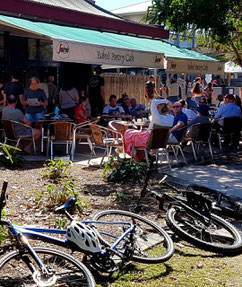 The shops themselves are an Aladdin's cave waiting to be explored. Home wares, designer clothes, mother and baby shops and even second hand clothing stores are intermingled with the practicalities of a post office, bakery, real estate offices, hairdressers, barbers, a gym, medical facilities,  a bottle shop and more. The soon to be re-developed site of the old corner store, will provide further options and facilities to the square.
On the other side of David Low Way can be found the Peregian Beach Hotel, a perfect spot for a relaxed drink or meal with friends. Next door is the IGA for all your grocery needs.
The title 'village' aptly describes Peregian. Its natural beauty and relaxed, beach style cosmopolitan vibe combine to make this a little piece of paradise, complete with a strong community spirit for those of us lucky enough to call it home! Enjoy!
---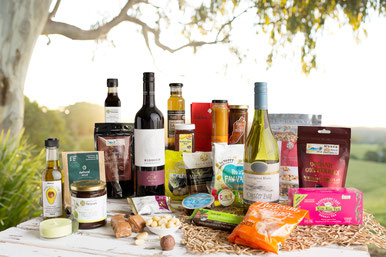 D'licious Gourmet Hampers provide local, sustainable, and environmentally friendly gift hampers which provide a farm gate to table experience for the recipient.
Local produce gift hampers are a great way to support a myriad of artisans, with most typically containing products from many such cottage industries within one purchase.
We customise corporate gift hampers to provide you with unique, quality gifts which promote your business as professional and caring, while reinforcing your own brand. The service we provide allows you to confidently place your corporate gifting entirely under our care.