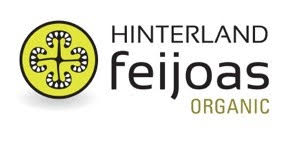 Hinterland Feijoas are Australia's first organic feijoa growers, and have around 700 trees on their Sunshine Coast hinterland property.
Every March owners Sally Hookey and Peter Heineger  harvest around 8 tonne of fresh feijoas , and open their farm gates to the public to sell their fruit.
They also produce a wide range of feijoa jams, chutney and balsamic dressings, and this is where the wonderful Irene of D'licious Gourmet Hampers collects stock every few months to fill her hampers.
Owner Sally Hookey commented
"Irene from D'Licious Gourmet Hampers was one of our very first supporters, buying our first ever jam lines to include in her local hampers, way back in 2010!  Since then she has been an important part of our business, supporting us every year. We love working with Irene, as her hampers go all around the countryside, exposing our brand and products to hundreds of new customers. We even had jam in a hamper gifted to HRH Prince Harry and Meagan when they visited Queensland last year!"
Sally Hookey & Peter Heineger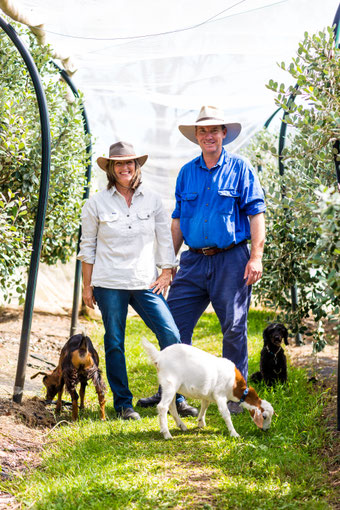 Hinterland Feijoas
The Farm Shop and Myrtle the Food Van.
Available for pre-booked long lunches and events.
Organic food all sourced locally. Enquire today.
131 Browns Rd
Belli Park, Qld, 4562
0409 829 899
info@hinterlandfeijoas.com.au
www.hinterlandfeijoas.com.au
www.facebook.com/HinterlandFeijoas
www.instagram.com/hinterlandfeijoas
2012 Winner Sunshine Coast Excellence in Business Awards
2013 Winner Sunshine Coast Excellence in Business Awards
2014 Australian Delegates at Slow Food's International Conference, Italy.
2014 Winner Sunshine Coast Excellence in Business Awards
2014 Winner Sunshine Coast Business Sustainability Award
2015 Speaker TedxNoosa
2015 Inductees Sunshine Coast Business Awards Hall of Fame
2018 State Winners Delicious Produce Awards
2019 Slow Food Snail of Approval recipients 
---
D'licious Gourmet Hampers is a family owned and run business. Ray and Irene and their family have been living in the Noosa Shire of the beautiful Sunshine Coast, Qld for over 20 years and are passionate about the areas natural beauty, lifestyle, climate and the quality of the local produce. Situated only an hour north of Brisbane, D'licious Gourmet Hampers services South East Queensland with quality regional gourmet hampers. Overnight delivery is possible to most SE Qld areas. Please check our Delivery information for your particular area.
We deliver Australia wide!
The Sunshine Coast, a short 1hr drive north of Brisbane, offers some of the most beautiful and pristine beaches in the world and a picturesque hinterland, with rolling pastureland, mountains, lakes and rainforests. It's temperate climate creates the perfect growing conditions for the produce from which local gourmet chefs create their increasingly famous artisan sauces, jams, beverages and more.
We're spoiled for choice with the amazing gourmet products we can offer in our hampers - choose one of ours or create something entirely original! 
---
Enjoy the finest quality, locally produced, taste of the region delicacies direct from the Sunshine Coast Queensland. Proudly regional gourmet hamper specialist for Brisbane, Sunshine Coast, Gold Coast and Queensland with Australia wide delivery.
Customised or Corporate Gift Hampers or Gift Basket orders welcome.  
---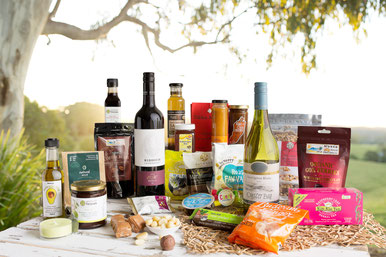 D'licious Gourmet Hampers provide local, sustainable, and environmentally friendly gift hampers which provide a farm gate to table experience for the recipient.
Local produce gift hampers are a great way to support a myriad of artisans, with most typically containing products from many such cottage industries within one purchase.
We customise corporate gift hampers to provide you with unique, quality gifts which promote your business as professional and caring, while reinforcing your own brand. The service we provide allows you to confidently place your corporate gifting entirely under our care.