Corporate gifts count as one of the most humble and genuine ways of influencing your customer base.
Let's break some common misconceptions that have been till now associated with the norms of Corporate gifting -
Corporate Gifts Need Not Necessarily be Sourced from Experts
One of the primary misconceptions about corporate gifts is not finding it necessary to plan your gifts with the help of professional corporate gifting houses. This is a common mistake that people make while choosing their corporate gift options.
As a company when you take complete responsibility of choosing corporate gifts for your clients or colleagues, you are restricting yourself by not exploring more innovative and effective gifting ideas that can be provided to you with expert help.
Gifting companies can "take the temperature" of the market, know what is on trend and you can rely on the chosen items to bring joy to the recipient, and to be practical and beautiful.
Attractive Gift Packaging Does Half The Work
This is another misconception about corporate gifting that needs to be busted. Presentation is an important aspect of gifting but simply jazzing up the exterior or making something appear bigger and more "impressive" with packaging doesn't alter the fact that what is inside the packaging is of higher importance.   
Corporate Branding is a must for Corporate Gifts
Corporate branding can certainly be added with good effect but again this shouldn't overshadow the thought behind the gift, or the gift itself. Your first priority and selection criterion of the gift should always revolve around fitting your client's objectives and the purpose of giving the gift be it congratulatory, celebratory or a simple thank you. 
Choosing Corporate Gifting Companies with Free Delivery to Cut Costs
"Free delivery" provided by corporate gifting companies is a big myth, as the cost of delivery of the gifts has been built into the product price offered to you. Therefore, you must prioritize the selection of your corporate gifting company on the basis of its versatility and quality rather than just the "free delivery" option.
Negotiating on a reduction of shipping costs with a large volume sale is reasonable and may be beneficial to both parties.
Corporate Gifting does No Good
It is a big misconception that corporate gifting does not benefit your business or brand name in any way. Corporate gifting is a valuable strategy  that helps you create new bonds and strengthen old relationships with your valuable clients and colleagues. 
Opt for a corporate gifting company that provides you with unique, customized, and quality gifting options to help you expand your business and brand name in the most organic way!
---
Enjoy the finest quality, locally produced, taste of the region delicacies direct from the Sunshine Coast Queensland. Proudly regional gourmet hamper specialist for Brisbane, Sunshine Coast, Gold Coast and Queensland with Australia wide delivery.
Customised or Corporate Gift Hampers or Gift Basket orders welcome.  
---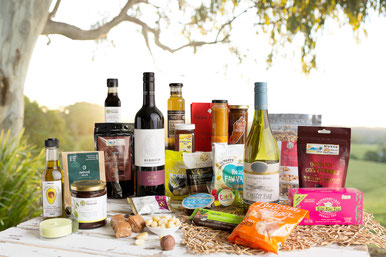 D'licious Gourmet Hampers provide local, sustainable, and environmentally friendly gift hampers which provide a farm gate to table experience for the recipient.
Local produce gift hampers are a great way to support a myriad of artisans, with most typically containing products from many such cottage industries within one purchase.
We customise corporate gift hampers to provide you with unique, quality gifts which promote your business as professional and caring, while reinforcing your own brand. The service we provide allows you to confidently place your corporate gifting entirely under our care.