The popularity of Brisbane's annual Regional Flavours food and wine festival is indicative of our growing passion for quality regional gourmet food. An increasingly informed and discerning public are demanding more from food producers and suppliers than ever before.
Consumers like to know not only what is in the products they are buying, but also where they have come from and how they have been produced. 'Farmgate to plate' is more than a glib advertising slogan. It intimates a journey where food has been grown and produced with pride and passion and consumed with appreciation and delight. At a time when convenience and speed of availability drive many of our choices as consumers, a return to caring about the provenance of food is both heartening and inspiring.
It is exactly this emphasis on provenance that has led to the growing demand for our regional gourmet gift hampers. The Sunshine Coast, Queensland, is recognised across Australia as a rich food hub with a plethora of quality food, producers and chefs. This ensures we are 'spoilt for choice' when selecting artisan products for our gourmet gift hampers. 
Originally most of our clients and customers were sending our gift hampers to or from the Sunshine Coast. However our corporate clients are increasingly Brisbane based businesses, wanting a quality, regional gift hamper or basket for their clients or staff. Due to our close proximity to Brisbane, we are able to offer same day or next day delivery of our hampers to most Brisbane locations.
Our long held passion for regional food has only grown with time. We are proud to provide gift hampers for our Brisbane, Sunshine Coast and South East Queensland customers that support our farmers and producers, while giving joy to the lucky recipients. We know we are doing something right when many of them become our next customers! 
---
D'licious Gourmet Hampers is a family owned and run business. Ray and Irene and their family have been living in the Noosa Shire of the beautiful Sunshine Coast, Qld for over 20 years and are passionate about the areas natural beauty, lifestyle, climate and the quality of the local produce. Situated only an hour north of Brisbane, D'licious Gourmet Hampers services South East Queensland with quality regional gourmet hampers. Overnight delivery is possible to most SE Qld areas. Please check our Delivery information for your particular area.
We deliver Australia wide!
The Sunshine Coast, a short 1hr drive north of Brisbane, offers some of the most beautiful and pristine beaches in the world and a picturesque hinterland, with rolling pastureland, mountains, lakes and rainforests. It's temperate climate creates the perfect growing conditions for the produce from which local gourmet chefs create their increasingly famous artisan sauces, jams, beverages and more.
We're spoiled for choice with the amazing gourmet products we can offer in our hampers - choose one of ours or create something entirely original! 
---
Enjoy the finest quality, locally produced, taste of the region delicacies direct from the Sunshine Coast Queensland. Proudly regional gourmet hamper specialist for Brisbane, Sunshine Coast, Gold Coast and Queensland with Australia wide delivery.
Customised or Corporate Gift Hampers or Gift Basket orders welcome.  
---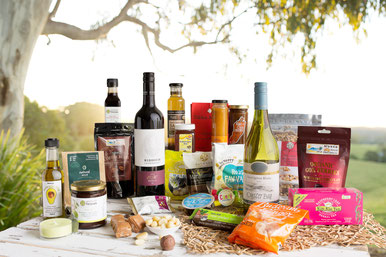 D'licious Gourmet Hampers provide local, sustainable, and environmentally friendly gift hampers which provide a farm gate to table experience for the recipient.
Local produce gift hampers are a great way to support a myriad of artisans, with most typically containing products from many such cottage industries within one purchase.
We customise corporate gift hampers to provide you with unique, quality gifts which promote your business as professional and caring, while reinforcing your own brand. The service we provide allows you to confidently place your corporate gifting entirely under our care.