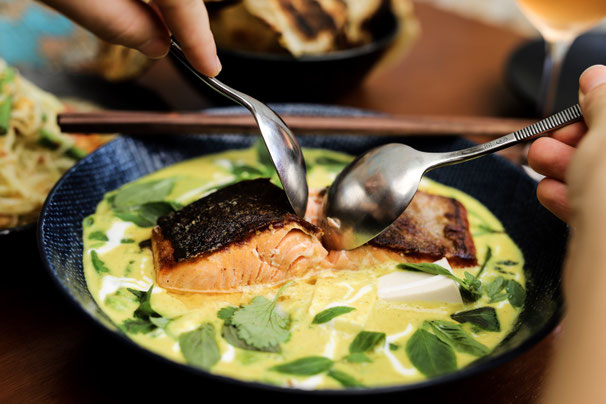 INGREDIENTS
150gm ginger, roughly chopped
100gm galangal, roughly chopped
80gm fresh turmeric, roughly chopped
4 cloves garlic, peeled
4-5 green chillies, roughly chopped
1/3 cup Extra Virgin Olive oil, plus extra
500ml coconut cream
500ml fish stock
2 stalks lemongrass
6 kaffir lime leaves
2 Tbsp. fish sauce
2 Tbsp. oyster sauce
¼ cup palm sugar, grated
¼ cup tamarind pulp
Salt
4 x 100gm salmon fillets, skin on
1 bunch Thai basil, leaves picked
METHOD
In a food processor add the ginger, galangal, turmeric, garlic, chillies and oil and blitz on high to form a smooth paste.
Place a wok over high heat and heat 2 Tbsp. oil until shimmering. Pour in curry paste and fry off for approximately 5 minutes until aromatic and steam no longer rises from the mixture. Add in the coconut cream and stock. Bash the lemongrass with the back of a knife to break the fibres and add into the wok along with the kaffir lime leaves. Bring to a light boil, reduce heat to low and simmer for 10 minutes to infuse the flavours.
Strain flavoured stock into a saucepan and place over a low heat. Season with fish sauce, oyster sauce, palm sugar and tamarind. Taste and adjust seasoning to balance the flavours of sweet, salty and tart. Salt can be added at this point, if required.
Heat 2 Tbsp. oil in a large pan over medium-high. Season fish with salt and place in the pan, skin side down for 3-4 minutes until skin is crispy. Flip over to cook for a further 2 minutes or until opaque and cooked through. 
To assemble, divide curry sauce amongst 4 shallow serving bowls and place fish a top, skin side up. Garnish with freshly picked Thai basil leaves.
---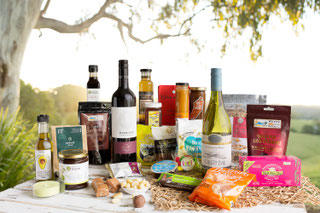 D'licious Gourmet Hampers provide local, sustainable, and environmentally friendly gift hampers which provide a farm gate to table experience for the recipient.
Local produce gift hampers are a great way to support a myriad of artisans, with most typically containing products from many such cottage industries within one purchase.
We customise corporate gift hampers to provide you with unique, quality gifts which promote your business as professional and caring, while reinforcing your own brand. The service we provide allows you to confidently place your corporate gifting entirely under our care.