In days gone past, a gift 'basket' was virtually the only way a gift hamper was packaged.
Cane baskets of various sizes and quality, many resplendent with a large oval handle, were the expected and preferred packaging. Invariably these were presented in a layer of cellophane, usually tied on top with a large vertical 'frill' of cellophane, often much larger in dimensions than the hamper itself.
This no doubt made the gift look somewhat spectacular and certainly larger than life. Buyers liked the idea of giving a gift that looked so large and generous.
However times and tastes have moved on.  Design tastes are now more minimalist and this has certainly transferred to gifting packaging. Preferred packaging for gift hampers now is more likely to be lidded boxes. The emphasis is on classic, clean lines and simplicity. It is definitely a case of quality over quantity. The proponents of the large 'explosion' of cellophane around a cane basket often didn't stop to think of the effect such overwhelming packaging may have on the impression made once this was removed. Removing volumes of packaging to reveal a limited number of usable products is a sure-fire way to 'underwhelm' the recipient.
The current trend for simplicity in packaging does not equate to lack of choice or variety for available options. From high gloss boxes embossed with company logo to natural eco-friendly recycled cardboard boxes or even wooden boxes; boxes with enclosed lids to clear lids which reveal the products inside; satin ribbon, organza, raffia and even good old-fashioned string for decoration, there are options for every taste and occasion. 
So the next time you need to order a gift for a colleague, friend or client, think 'gift hamper' rather than 'gift basket'. You will be well on the way to selecting an 'on trend' gift which gives a great first impression that lasts.
---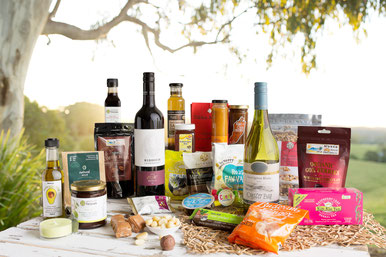 D'licious Gourmet Hampers provide local, sustainable, and environmentally friendly gift hampers which provide a farm gate to table experience for the recipient.
Local produce gift hampers are a great way to support a myriad of artisans, with most typically containing products from many such cottage industries within one purchase.
We customise corporate gift hampers to provide you with unique, quality gifts which promote your business as professional and caring, while reinforcing your own brand. The service we provide allows you to confidently place your corporate gifting entirely under our care.