Organic foods are products that have been produced by approved methods of organic standards of ACOS (Australian Certified Organic Standard). 
The rulebook for organic products as stated by ACOS is a blend of national and international standards. Crops can be labelled organic only if the method of production does not include conventional pesticides, synthetic fertilizers, use of chemicals, synthetic additives, bio engineering, ionizing and radiation. 
In the case of organic meat, poultry eggs and dairy products, it can be termed 'organic' only when these products are produced by animals that have not been given antibiotics or growth hormones or genetically modified organisms (GMOs).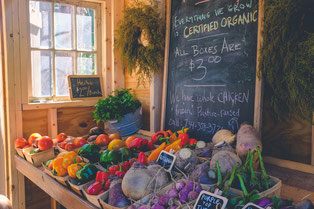 Criteria for Food to be Organic
To classify food products as 'Organic' it is mandatory that food products must meet the specific criteria laid down by Australian Certified Organic Standard.  Organic farming begins with organic land, soil quality, organic seed, water accessibility, etc. 
During cultivation, the farmers must strictly ensure chemical free farming which must organically manage the soil and crop nutrients. 
Cultivation or tiling must be done in the absence of any hazardous chemicals and extremely harmful pesticides to ensure the health of the soil, thereby stimulating the soil to thrive as per the natural ecosystem.
The pesticide used during cultivation must not have traces of chemicals.  Natural pesticides like pyrethrins, light oils, copper, sulphur and bacillus thuringiensis are permitted.
Use of healthy raw manure and uncontaminated water are essential for improving the condition of the organic soil.  The biological, chemical and the physical standard of the soil must not be altered artificially.
Abstain from using sewage sludge on the farm land.
Minimize soil erosion. 
Benefits of Organic Food
When you bite into an organic food, rest assured, you are not consuming pesticides.  The residues of fungicides, herbicides and insecticides are absent on organic foods.
Organic food has reduced components of heavy toxic elements.  Thus, they consist of relative more antioxidant compounds than non-organic food.
Organic food is natural all the way.  It doesn't contain any artificial additive, preservatives, sweeteners or colourings. 
Regardless of your diet, adding some organic foods is a smart priority. Opting for organic foods is an positive choice for both your personal and the planets health.
Buying organically grown food (especially locally) —free of harmful chemicals, bursting with more nutrition, taste, and sustainable sustenance—is a vote for your immediate health and the hopeful future of generations to come.
---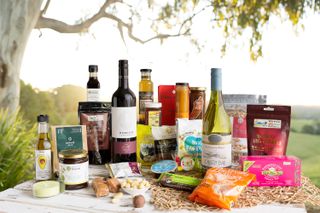 D'licious Gourmet Hampers provide local, sustainable, and environmentally friendly gift hampers which provide a farm gate to table experience for the recipient.
Local produce gift hampers are a great way to support a myriad of artisans, with most typically containing products from many such cottage industries within one purchase.
We customise corporate gift hampers to provide you with unique, quality gifts which promote your business as professional and caring, while reinforcing your own brand. The service we provide allows you to confidently place your corporate gifting entirely under our care.