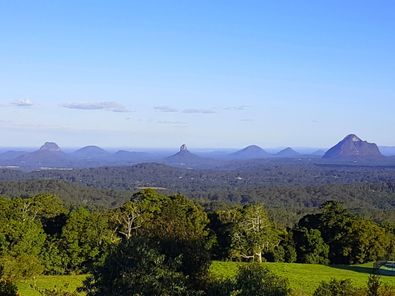 Just an hour north of Brisbane, the Glass House Mountains iconic skyline is well known in Queensland. The Glass House Mountains were named by Captain Cook during his voyage of discovery along Australia's east coast.
The Glass House Mountains area is spiritually significant to the Aboriginal Traditional Owners, with many ceremonial sites still protected today. The bush here sustained people for thousands of years.
The Glass House Mountains area provided many resources from a varied and rich environment which included river systems, open forests, coastal wetlands and mountain forests.
The rocky outcrops that make up the Glass House Mountains are remnants of volcanic activity that occurred about 25-27 million years ago. As the volcanic mountains cooled stunning vertical columns emerged.  Millions of years of erosion have removed the surrounding exteriors of the volcanic cones and softer sandstone rocks leaving the magnificent landscape features you see today. 
To experience it for yourself you can take a leisurely drive through the Glass House Mountains National Park. There are several picturesque lookouts along the way. If you prefer some exercise - get your blood pumping with hiking, rock climbing or abseiling.
---
Mount Tibrogargan
The walking circuit is found inside the Glass House Mountains National Park. It's volcanic peaks towering over the surrounding landscape are so significant that they have earned a listing on the Queensland and National Heritage Register as a landscape of national significance. The area has special significance for the local Gubbi Gubbi Aboriginal people.
Walking tracks - Walking tracks (of varying degrees of difficulty), lead through open forests to lookouts offering panoramic views of the surrounding area. This area is home to koalas, goannas, echidnas & grey kangaroos. Many birds such as kookaburras, cockatoos, lorikeets, rosellas and peregrine falcons can also be seen. The glossy black-cockatoo, which is  considered vulnerable to extinction, is found in this area.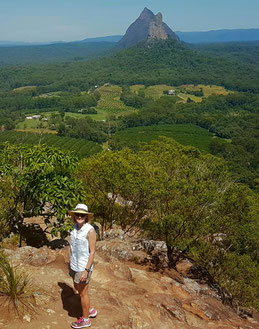 Mount Ngungun 
Summit Walking Track is a 2.8 kilometre trail beginning in open forest and offering great views of Mount Tibrogargan, Mount Coonowrin and Mount Beerwah from the summit.  You're rewarded with a 360 degree panoramic view of the coast and hinterland at the top! 
Beerburrum and Beerwah State Forest 
These state forests neighbour and encompass the Glass House Mountains National Park and offer more scenic views and areas to explore by car or foot. Walking tracks (ranging from easy to challenging summit routes requiring climbing experience) take visitors through open forests to panoramic lookouts. 
---
Iconic Country Towns
The Glasshouse Mountains/ Beerburrum State Forest area is home to several iconic county towns, such as Beerwah, Glass House Mountains, Peachester, Landsborough and Beerburrum. From local markets to old country pubs, such as the Beerwah Hotel (see image), these towns have a charm of their own and are worth a visit.
Local Attractions
The area's most famous tourist park is undoubtedly Australia Zoo, home of the Crocodile Hunter. They boast over 1,200 animals and many free shows daily. Join the snakes, free-flight birds and crocs live in the world-famous Wildlife Warriors show in the Crocoseum, and get your adrenalin pumping as you watch a crocodile launch a strike from the water's edge. You can get hands-on with cuddly koalas, waddling wombats, slithering snakes and cute kangaroos. Come face to face with majestic tigers, or get your photo taken with a regal eagle.
For the young at heart, Aussie World is a fun day out for the entire family with so many thrilling rides and attractions on offer. Well known landmark Ettamogah Pub is situated next door for a cold beer. The Big Cart Track in Landsborough offers a fun and safe 'racing' experience for young and old adrenaline junkies.
---
Accommodation
From quality BnBs, through to Caravan Parks and State Forest camping grounds, there are accommodation options for all tastes and budgets. Glass On Glasshouse offers three beautiful architect-designed cottages featuring two walls of floor-to-ceiling glass with spectacular mountain views, spa and fireplace. Glasshouse Mountains Ecolodge has a variety of accommodation suitable for singles, couples and groups including historical train carriages and bungalows.
So instead of simply driving past on your way to the Sunshine Coast beaches, plan a day or more to explore this beautiful area. You won't be disappointed!
---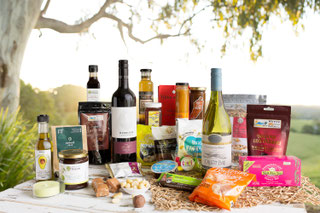 D'licious Gourmet Hampers provide local, sustainable, and environmentally friendly gift hampers which provide a farm gate to table experience for the recipient.
Local produce gift hampers are a great way to support a myriad of artisans, with most typically containing products from many such cottage industries within one purchase.
We customise corporate gift hampers to provide you with unique, quality gifts which promote your business as professional and caring, while reinforcing your own brand. The service we provide allows you to confidently place your corporate gifting entirely under our care.