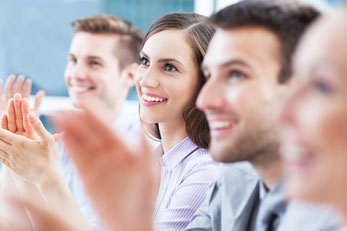 Easy and effective ways to have happier staff
If you want a more productive staff, you need to improve staff morale. According to a study conducted by Warwick Business School, happy workers are 12% more productive.  This means morale is one of the most significant factors to consider when trying to increase your bottom line. But what if you can't afford to give everyone a big salary increase or take everyone on lavish cruises to exotic places? Fortunately for you, there are some amazingly simple ways to improve staff morale that are also easy on the budget.
1. Celebrate Accomplishments
A great way to have a better future is to learn from the past. Train your employees to excel by noticing their successes already accomplished. Be creative. You might have an employee of the week program based on key performance indicators. Or you might set a specific benchmark for employees who reach it to be mentioned in a special place. This will set their sights on the goal, and competition will handle the rest.


2. Be Involved
Employees are far happier and loyal when they can sense that management cares. Improve staff morale by being involved in their lives. When they have a new baby, congratulate them and ask how everyone is doing. When they are working for a specific goal, check in for updates. When they lose a loved one, send them flowers or a thoughtful gift such as a gift hamper to show you care.


3. Inspire
Sometimes, employees get caught up in the daily grind and lose sight of the overarching vision or corporate dream. Why is this organisation in business? What is the good they are helping to achieve? Inspire staff members by circulating success stories or anecdotes that remind them how meaningful their role is.


4. Give Breaks
Occasionally, some extra time off just to do something important to your staff members can greatly improve their morale. Did your team just reach a milestone or close an important project? How about knocking off early on Friday? Or better yet, if feasible, give them a whole day to be with their families if the need arises. They will remember these gestures.


5. Give Them a Stake
Last, but certainly not least, an extremely simple way to improve staff morale is to listen to their feedback and implement their best ideas. Staff members who feel actively involved in the success of a company are more engaged, loyal, productive, and happy. And they often have great ideas!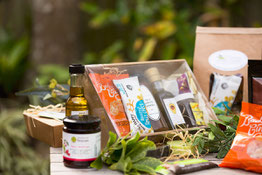 Finally, don't underestimate the power of a thoughtful and even unexpected gift to lift the morale of your staff and let them know they are valued.  
D'licious Gourmet Hampers provide local, sustainable, and environmentally friendly gift hampers which provide a farm gate to table experience for the recipient.
We customise corporate gift hampers to provide you with unique, quality gifts which promote your business as professional and caring, while reinforcing your own brand. The service we provide allows you to confidently place your corporate gifting entirely under our care.