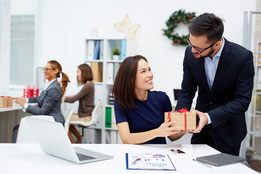 Corporate gift etiquette can be a little tricky if you don't take a moment to consider the do's and don'ts of gift giving in a business setting. Spare yourself the awkwardness or even embarassment, and follow these recommendations to master the proper way to give (and receive) corporate gifts.
The Finesse of Corporate Gift Etiquette
Regardless of your motivation for giving a gift to a co-worker, client, vendor, or partner, chances are you want it to mean something special and show that you are a caring professional who appreciates the other person. The last thing you want is to come off as an uncaring kiss-up who didn't put a second of thought into your gift. So how do you achieve the former rather than the latter? One word: finesse.
Corporate gift etiquette is all about finesse. In other words, it's all about the little things. There is an art to corporate gift giving, so take care to put the thought into understanding it. Do your homework, know the tastes of the person you are giving to, and don't promote yourself in the giving.
Corporate Gift Etiquette Recommendations
Here are some of those little things to pay attention to:
Appropriate Value:

Pause to consider what would be an appropriate amount to spend on this gift. A lavish gift might be impressive but come across as inappropriate. On the other hand, a coffee cup might be too insignificant for your biggest client.

Make It Personal:

Don't just get something assuming it will be appreciated because you gave it. Be sure the recipient will enjoy the gift.

If at all possible, make it personal

by finding out what the recipient likes in particular.

Perfect Timing:

In many cases, gifts are expected during the holidays – or at least not unexpected. But if you want really make an impression, other occasions you might choose could be the birth of a new baby, the anniversary of a business partnership or employment, or even the recipient's birthday.

Brand Sparingly:

Often, gift giving is the perfect opportunity to brand your business by adding your company logo to the gift. In some cases, this is acceptable corporate gift etiquette. But if you want to give a particularly personal or meaningful gift, a company logo may detract from this. Know when to include the logo or not.
What About Receiving Gifts?
Perhaps you just received a gift from a colleague or business associate. What is the proper gift etiquette in this situation? The rule of thumb is to acknowledge the gift immediately and graciously. Unless it is a deeply personal gift, there is no need to gush. A simple email or letter of appreciation will suffice. If called for, insert a line or two about how you might use the gift or what it means to you on a personal level. If this relationship is particularly important to you, consider planning to send them a gift in the near future.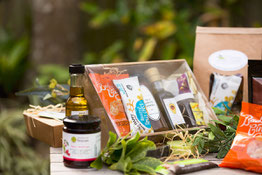 D'licious Gourmet Hampers provide local, sustainable, and environmentally friendly gift hampers which provide a farm gate to table experience for the recipient.
We customise corporate gift hampers to provide you with unique, quality gifts which promote your business as professional and caring, while reinforcing your own brand. The service we provide allows you to confidently place your corporate gifting entirely under our care.