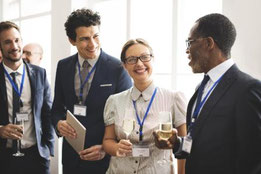 Networking and relationship-building are important aspects of building a strong business. The problem is, many professionals don't understand how to go about networking, and their business suffers. Follow these insights below to develop lasting relationships at your next networking event.
Do Your Homework    
Before anything, do some homework to determine the most important networking events to choose. You can't attend them all, so ask yourself which events are most suited to your business and networking purposes. Determine just what your specific goals are and how you would like to achieve them. Do you want to learn something? Get on someone's radar? Develop a relationship map to help you decide who you absolutely want to meet and talk with. Here are some tips to build that map:
First ask yourself who might be able to help you with your goals.
Then determine who you know in common with that person who might be able to introduce you.
Fill in any gaps by identifying the specific line of business of people you need to meet.
Be Genuine
Remember that people do business with people they like and trust. Spend at least as much time listening as speaking. Successful business networking is more about relationship building than selling, so use this time to get to know more about that person. Identify ways you may be able to help each other and each other's business.
Be Thorough
Don't leave anything to chance. Avoid a long sales pitch, but people will naturally ask you what you do and about your business.  Make sure you have your elevator pitch perfect, but also remind yourself to be authentic and warm. Have plenty of business cards on hand. Feeling awkward about meeting new people? Memorize a few opening lines that will get the conversation started. Perhaps open with an occasion statement about the venue, weather, or even a compliment. Keep the conversation going by asking open-ended questions (how, when, why, etc.) rather than yes/no questions. Remember to orient the conversation around your intended goal while also being helpful to, and interested in, the other person.
Be Unforgettable
The business contacts you make at the average networking event may start to all blend together, and it's easy to forget everyone you spoke with. Don't allow this to happen to yourself – make sure you stand out in the memory of each person you speak with. There are a number of ways to accomplish this:
Does your name sound like something else you can make reference to? This is called a handle. People are more likely to latch on and remember Whitney from Sydney than they are just plain Whitney.
Write a special note on your business card personalized to your conversation.
Follow up after the event with an email thanking them for their time. Go one step further for very important contacts by sending them something small but thoughtful in the mail to emphasize your appreciation for their time, e.g. a cafe owner may send a free voucher for two coffees. Turn a one-time meeting into a long-term relationship and business asset.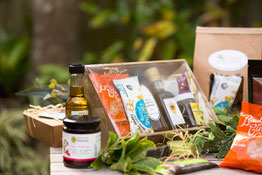 D'licious Gourmet Hampers provide local, sustainable, and environmentally friendly gift hampers which provide a farm gate to table experience for the recipient.
We customise corporate gift hampers to provide you with unique, quality gifts which promote your business as professional and caring, while reinforcing your own brand. The service we provide allows you to confidently place your corporate gifting entirely under our care.